Create a Multidisciplinary Team
Managing OR critical events is a multidisciplinary process, so your checklist implementation team must represent all of the perioperative disciplines: anesthesia providers, surgeons, nurses, and technicians.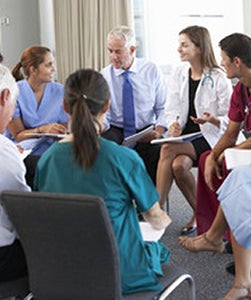 Active involvement from all perioperative disciplines is critical to success
No single discipline can produce a successful implementation in isolation. Everyone involved in making checklists part of emergency event management must embrace the change and have a shared vision of how the team works.
Qualities to look for
The checklist champion should first identify the individuals in each of the perioperative disciplines who are thoughtful, respected, reliable, collaborative, and able to participate. These individuals may or may not hold official leadership titles in the facility. Nurses, residents, and/or technical staff all have valuable perspectives and often welcome opportunities to participate in safety initiatives for their own professional development.
Prioritize experience with similar past efforts
If the WHO Safe Surgery Checklist or other safety initiatives are well established in your facility, find out who participated in those safety initiatives and invite them to join your team. Use the guidance provided in Getting Buy-In to make the case for the project. Be prepared to clearly address the expectations for the team and emphasize that their input is critical to the success of the project.
General expectations for team members include:
Participation in regular implementation team meetings (with the understanding that the implementation work could take 6-12 months)
Participation in selecting, customizing, and testing the emergency checklists
Encouragement of checklist adoption with peers
Developing, leading, and participating in presentations, trainings, and simulations
Next step: Select, Customize, and Test Checklists