Everything You Need to Implement the Checklists
If you're on this site, you've taken the first step to improving the management of operating room critical events. Congratulations!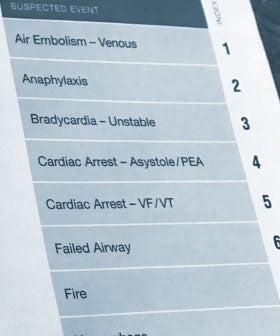 Downloading the checklists is just the beginning
There is impressive and growing evidence that crisis checklists and emergency manuals help teams improve crisis management, but downloading the emergency checklist is just the beginning. Using it successfully will require an investment of time and effort into implementation and training.
We developed this implementation toolkit to guide your journey all the way from acquiring the checklist to establishing goals for its use in your organization, training your teams, and improving the care you provide to patients who experience critical events in your institution.
This toolkit aims to help make your implementation and training efforts accessible, easy, and successful. Its recommendations are inspired by insights emerging from a two-year clinician study of checklist implementation, supported by the Agency for Healthcare Research and Quality, using resources developed at Harvard and Stanford. We surveyed almost 2,000 clinicians, and interviewed 40, to understand their effective strategies and challenges to successful implementation of the emergency checklist.
Prepare for a six to twelve month effort
Terminology
There are a variety of terms to describe the tools that support management of critical events, including "crisis checklists" "emergency manuals," "cognitive aids," and "tools." This site generally uses "emergency checklists."
One overarching lesson from the clinician study was that simply placing the checklists in operating rooms is highly unlikely to change the care of patients experiencing critical events in the OR. Study participants with the most successful checklist implementations commonly spent six to twelve months or more on implementation and training. While this seems like a long time, clinicians who successfully completed the checklist implementation and training universally reported that their efforts paid off in far-reaching and worthwhile benefits.
How will you define success
There are many possible ways to measure the successful implementation and effective use of an emergency checklist. Questions to help your organization define its priorities include:
How likely is it that clinicians in your facility will make use of checklists in applicable clinical situations?
Will the checklists be used in a way that improves performance?
Are the checklists available in all of the appropriate patient care settings?
Is there awareness and support for the use of checklists across all of the perioperative professional groups?
Are the checklists used in preparing the perioperative team for cases in which critical events can be anticipated?
Are the checklists used in review of critical events to improve future practice?
Next, let's talk about how to get started.